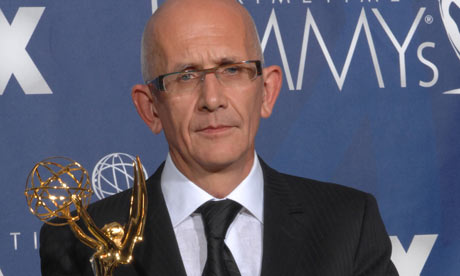 Back in 2000 I was called into the bowels of the BBC to discuss a possible play about the Far Right. The BBC hadn't produced anything on this are for over a decade. We didn't have much of an idea, then, of what to do: I was in the midst of writing my book
HOMELAND
and Ruth Caleb, the producer, was looking for a screenwriter to turn my research into riveting viewing.
We slowly interviewed a succession of writers: those well-established, others who were little more than cab drivers with a desire to hit the big screen. Then we met
Frank
.
In walked this taciturn, brooding figure; a monk-like man with deep brow, a thinker's face and thoughtful expression. There was an intensity there, behind the measured-but-strong Dublin accent. He wouldn't talk about his childhood, that was quickly off-limits after I asked about his background. Apparently he had a reputation for being difficult to deal with – he even warned me that, most likely, we would fall out during the process of filming and making this drama (we did, but only for a short while) – but mostly it was fascinating to work with him. He'd written a brilliant TV series called
Looking After Jo-Jo
, starring
Robert Carlyle
, which was set among the drug dealers of a Glasgow housing estate.
I took Frank to the British National Party's 'Red White and Blue' annual festival (something they had copied off their big brother, the Front National in France); then to the East End to meet BNP people; we even ended up outside the house of an infamous Combat 18 member in south-east London. Through many months and script revisions, the drama 'England Expects' (directed by Tony Smith) was born. It was while staying in Welshpool, near BNP leader Nick Griffin's smallholding, that I learned of Frank's troubled past: he searched high and low for a local AA group, which he felt he needed to attend. (Inadvertently I'd asked him if he wanted to join me in the hotel bar for a beer.) He hinted even then about the health worries troubling him.
I watched Frank's other work appear on the screens in the following five years: an Emmy-winning
Prime Suspect with Helen Mirren
;
The Passion,
his tale of Jesus' life, and death; he had co-written an unseen Hollywood film
Prozac Nation
, made on a book of the same name (and which he hinted had been riven with troubles); and worked on many other superlative dramas. Sadly I only recently learned of the liver cancer that was to contribute to his
death on 17 September this year
. We swapped an email only the day before, after friends told me about Frank's poignant writing of his condition – waiting for a liver transplant, for which he had a rare blood type – in
The Observer
newspaper. It led to him doing an hour-long radio show with RTE in Ireland; thousands of letters poured in to the newspapers in support of his and others' plights.
Frank's email to me of 16 September read: "Thanks Nick – we live in hope ay?" I replied later that evening, not realising he was already in the life and death operation to transplant his liver, and which he hoped would give him a new lease of life. Instead it robbed him of that life – he died on the operating table – and his wife, Marie, and three children are now left without a father.
Frank Deasy was a rare man: principled, gifted, honorable. I was glad, in the end, to have known him.