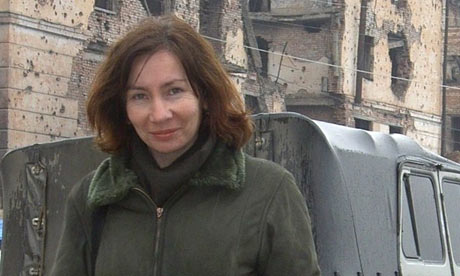 It should have been a brief trip. Last Wednesday, Natalia Estemirova, known to her friends as Natasha, left her flat in the Chechen capital, Grozny, and set off towards the bus stop. Usually, it took her 15-20 minutes to get to work – a bumpy ride in a shared No 55 mini-van, down an avenue of green tower blocks, past giant posters of Chechnya's warlord president Ramzan Kadyrov, and several of Russian prime minister Vladimir Putin.
On this occasion, she didn't make it. A hundred metres beyond the entrance of her 10th-floor flat – which overlooks a patch of grassy wasteland and a grove of shabby walnut trees – four gunmen were waiting. They grabbed Estemirova, bundled her into a white Russian-made Zhiguli car and drove off. A woman passer-by saw the abduction and heard her cry out.
It was 8.30am. Her kidnappers headed in the direction of Ingushetia, Chechnya's neighbouring republic. Probably, they took the M-29 highway, though there is also a grassy back-route looping along a hillside. The road is a scenic one: it cuts though a dark tunnel of poplar trees; on the roadside women sell melons from the backs of trucks. The kidnappers breezed through several checkpoints.
Two hours later, Estemirova was dead. The men stopped their vehicle soon after crossing into Ingushetia. Up ahead, a group of Islamist militants had ambushed a government car, opening fire. Estemirova's kidnappers may at this point have panicked. They marched her, hands tied, off the road. And then they shot her five times in the head and chest – leaving behind her money, passport and ID card.
This was no robbery. Instead, her friends believe it was something else: a vile, cowardly, meticulous, state-sponsored execution, apparently designed to send a chilling warning to the small, dwindling number of activists still working in Chechnya, Russia's rogue republic. Last week, Estemirova's colleague Oleg Orlov certainly felt in no doubt as to who killed her.
-->
part of a great piece today in The Guardian, by journalist Luke Harding
(a great guy whom I once met, many moons ago)